I love Italian coffee and have spent many years behind an espresso machine, brewing coffees whose origins are based in that country. And yet, with the way coffee has evolved so fast over the last few decades, it is easy to forget just how dominant Italian coffee has been.
We looked at the best Italian coffee brands out there on the market today and decided that Illy Classico was the best overall.
There are many famous names in coffee, but there is also a wider range of Italian brands in this established industry than first meets the eye.
The 10 Best Italian Coffees We Recommend
Product
Features
Features
Price

Best Overall

Illy Classico Whole Bean Medium Roast

Flavor Profile: Caramel, orange blossom, jasmine
Composition: 100% arabica blend
Roast Type: Medium

Check On IllyCheck On Amazon

Best For Espresso

Lavazza Gran Espresso

Flavor Profile: Chocolate, spices, cocoa, black pepper
Composition: 40% Arabica and 60% robusta blend from Brazil and Honduras
Roast Type: Medium Roast

Check On 1stInCoffeeCheck On Amazon

Best Pre-Ground

Lavazza Crema e Gusto

Flavor Profile: Chocolate, spices, vanilla
Composition: Blend of 30% arabica, 70% robusta
Roast Type: Dark Roast

Check On 1stInCoffeeCheck on Amazon

Best Decaf

Illy Decaf Ground Coffee

Flavor Profile: Caramel, chocolate
Composition: 100% arabica blend
Roast Type: Medium

Check On Amazon

Most Smooth

Lavazza Super Crema

Flavor Profile: Roasted hazelnut, brown sugar, flowery, fruity
Composition: 60% arabica, 40% robusta
Roast Type: Medium-light

Check On 1stInCoffeeCheck on Amazon

Best With Milk

Pellini Caffe No. 82 Vivace

Flavor Profile: Dark cocoa
Composition: Arabica and robusta blend
Roast Type: Medium

Check On Amazon

Best Dark Roast

FORTE by Filicori Zecchini

Flavor Profile: Chocolate, toasted cereal
Composition: Unique blend of pre-roasted beans
Roast Type: Medium Dark

Check On Amazon

Best For Pour-Over

Lavazza Gran Filtro

Flavor Profile: Caramel, chocolate
Composition: 100% arabica blend
Roast Type: Dark

Check On Amazon

Most Versatile

Kimbo Aroma Gold

Flavor Profile: Rich, sweet, chocolate
Composition: 100% arabica from Central and South America
Roast Type: Medium

Check On 1stInCoffeeCheck On Amazon

Best Light Roast

Lavazza Gold Selection

Flavor Profile: Honey, almond, milk chocolate, vanilla
Composition: 70% arabica, 30% robusta
Roast Type: Light-to-medium

Check On 1stInCoffee
The 10 Best Italian Coffee Brands Reviewed
Illy has been at the forefront of the Italian coffee industry for some time now. It's no surprise why, given the way they make their coffee. They have found out what works best for them and they do it very well. And their Classico is a perfect demonstration of this excellence.
They pride themselves on roasting 100% arabica coffee beans. This results in a rich aroma with maximum flavor. Arabica beans also allow the drinker to discern some excellent, complex flavors which aren't there with others. In this case, orange blossom, jasmine, and caramel.
For a country known for its smokey and chocolatey coffee beans, this is a real treat that pleases everyone.
Illy also maintains freshness with every tin they provide too. They fill every can with nitrogen to preserve the coffee beans. So every time you pop open a can, you can rest assured it's almost as fresh as it gets, no matter how long you have kept it for.
---
Lavazza is known for its bold flavors. And their Lavazza Gran Espresso is an example of why. With a blend of 40% arabica and 60% robusta beans, this coffee packs one hell of a punch.
Balance is the vital word for a coffee of this sort. Most coffee manufacturers would be doomed to fail if they dared produce a coffee in which robusta beans are dominant. Robusta takes no prisoners on the taste front, so it needs to be handled with care. And this is what Lavazza does with their medium roast and the specific beans selected.
The result is a coffee rich in intensity but without any bitterness. It's the ideal bean for someone who wants to make a bold, classic espresso coffee or moka pot at home without the fear of astringency (acidity or bitterness).
---
Lavazza is never scared when it comes to making bold coffee. And this Lavazza Crema e Gusto takes the notion of boldness to its farthest reaches.
Ground coffee often lacks distinctive flavor. Lavazza has combatted this with a blend that can't be ignored, but not in a barbaric way. What results from this is a flavor that charms more than would be expected with a robusta dominant drink.
This drink is for those who lack a coffee grinder at home but still want that powerful Italian taste without a fuss. Its strength could also be considered its weakness here. Don't expect subtle or delicate flavors in a ground coffee. This is a real Italian wake-up call.
---
Espresso beans are bold and delicious. And for years a bold coffee like espresso would also come with a punchy kick of caffeine. This Decaf by Illy provides a bold and delicious best Italian coffee taste that can be enjoyed all day and right through the nighttime, without the worry of jitters or sleeplessness.
Illy decaffeinate their coffee with a liquid carbon dioxide process. In simple terms, they pour carbon dioxide through the beans at a low temperature to target the caffeine. This method helps retain the aroma and taste of the coffee.
You could call this a balancing act. And balance is what you get with this Illy Decaf coffee.
---
Lavazza Super Crema is the best of both worlds. It's a strong and intense coffee in true Italian form. But it is also smooth on the palate and not overbearing like some. That doesn't mean it's delicate in any way, however.
This is still a very bold coffee, thanks to the 40% robusta beans that make up this blend. This coffee is for those drinkers who love the best Italian coffee but perhaps not its most extreme excesses. Instead of the dark, smokey taste often associated with Italian coffee, you can expect a more complex array of fruit and hazelnut flavors.
It's a coffee for both hearty and subtle palates alike.
---
Italian coffee brands pair very well with milk and Pellini is the prime example of why. These No.82 Vivace beans by Pellini are a heady mix of arabica and robusta. Each bean type selected has been roasted to meet its own optimal specifications.
The result is an Italian coffee that is full-bodied, well-balanced, and dark all the way through. The cocoa aftertaste lingers and lingers on the palate. This bold flavor cuts through the milk and harmonizes perfectly with it. Whether it's a flat white or a cappuccino, this Pellini works with the milk and isn't masked by it.
---
The best Italian coffee beans are known for their dark intensity, their boldness, and their rich flavors. Filicore Zecchini emphasizes all these attributes with FORTE. This brew is for those who want an Italian coffee as bold and as rich as it gets.
Filicori Zecchini achieves this emphatic taste with the roasting method of their own selected beans. They roast each different bean variety according to its own formula before they blend the beans together. Most other coffee brands blend the beans together first and then roast, which is a less considered and discriminate approach to roasting.
These beans are best enjoyed by someone who likes their strong Italian coffee through an espresso or a moka pot. This superior strength also means it goes well with milk and sugar to take the edge off.
---
This Lavazza Gran Filtro is a blessing to those who want to enjoy an Italian coffee but want something less punchy than an intense espresso.
It's made from 100% arabica beans, which means its flavors will be clearer and more pronounced. It's still got that classic bold Italian flavor though, thanks to the dark roast which draws out the intensity of the beans as much as possible.
This coffee is perfect for someone to enjoy the best Italian coffee with a pour-over or a French press. This excellent balance also makes it an ideal brew to be consumed throughout the day as it won't overpower the palate.
---
It's not always easy to know what type of coffee bean to go for when drinking at home. Many Italian coffee brands remove the freedom of choice with their coffee. They roast their beans to only allow the drinker to brew a certain type of coffee at home.
Things are different with Kimbo Aroma Gold. These arabica beans and the just-right roast profile mean that these ground coffee beans work just as well in an espresso machine as they do in a filter.
This might not be the best Italian coffee for those who like to be exacting with ground coffee beans and ensure the optimal nuance of flavors. For those of you who want clinical brewing, this might be a blunt tool. For others who want to play about depending on their mood, it's sharp enough.
---
This is a light roast but it still comes up with the goods as an Italian coffee. The robusta beans help to offset any doubts that this might be a delicate coffee. The specific arabica beans make for an impressive flavor profile.
The arabica and robusta ratio complement this coffee perfectly. It still has the boldness one would expect with an Italian coffee, but with a more nimble touch.
Anyone who wants a light roast with a delicate yet complex flavor profile would enjoy this coffee. It works best when consumed black as an espresso or americano to preserve the delicate notes of vanilla, honey, and almond.
---
The Best Italian Coffee Brands: A Buyer's Guide
Italian coffee has been the dominant force in Europe and across the world since the 19th Century. Its influence cannot be overstated and it's changed the coffee world forever with no going back.
Italian coffee has been so influential that in recent months the Italian government has sought to get it granted UNESCO heritage status.
Illy & Lavazza
As you may very well have noticed, Illy and Lavazza are the grand monarchs of the best Italian coffee brands. And their presence rules over everywhere. If you walk down any high street, you will quite likely see an Illy of Lavazza sign for their coffee.
So what's the difference between these two titans?
Well, Illy is thought of as making higher quality coffee, thanks to their blends consisting of 100% arabica beans for distinctive flavor and sweetness. They're ideal beans for espresso machines and filters alike. But this quality also comes at a high price.
Lavazza on the other hand tends to use a blend of arabica and robusta beans. This means that Lavazza coffee tends to be higher in caffeine, bolder, but less clear in taste. They're great for a robust espresso or moka pot coffee. These beans are also cheaper than 100% arabica and therefore cheaper than Illy's.
Single Origin Vs Blend
Italian coffee beans are characterized by their boldness and richness associated with darker roasts. Many of the best Italian coffee brands use a blend of the strongest Italian coffee beans they can to achieve this kick.
Roast Type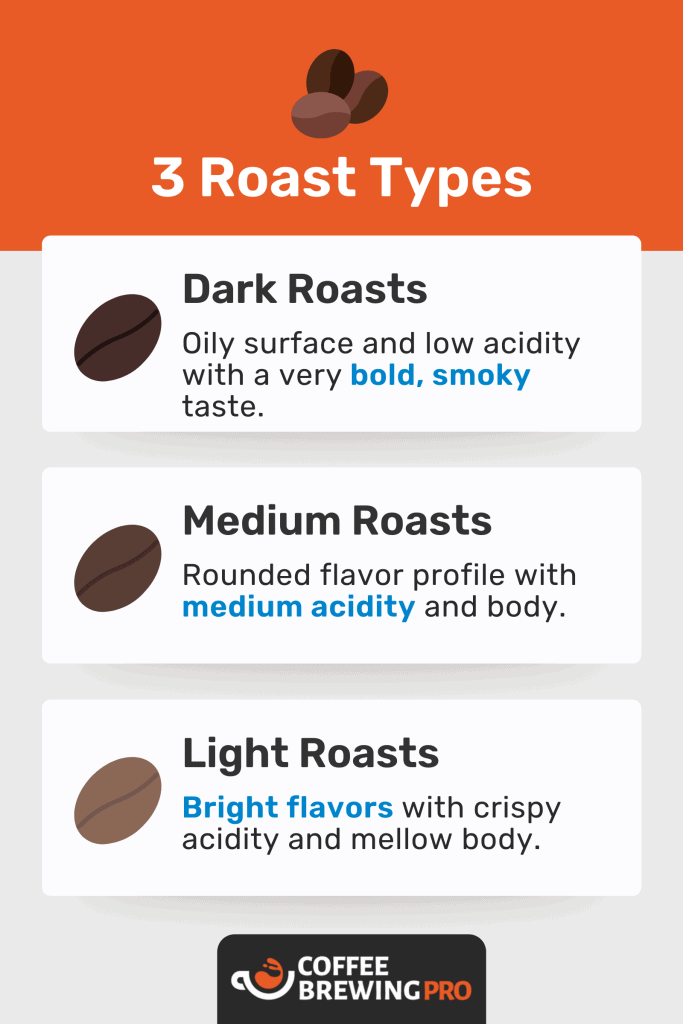 In general, Italian roasts tend to be darker than the average from other nations. A medium Italian roast will often be darker than a medium in other countries. This is as much of a cultural trend as anything else. It is what Italian coffee is now known for and what it does best:
Dark roast: Has an oily surface and low acidity. The flavors from the coffee's origin are roasted out and replaced with a very bold, smoky, "Classic Italian" taste.
Medium roast: A rounded flavor profile with medium acidity and body. Many of the unique flavors of the coffee's origin are preserved but the caramel sweetness of a darker roast is there too.
Light roast: Bright flavors with crisp acidity and a mellow body. The unique characteristics of the bean and its place of origin are preserved which makes it a favorite roasting method among many connoisseurs.
Arabica Vs Robusta
Many brands like Lavazza also use a mix of arabica and robusta beans to double up on this classic strong Italian taste and caffeine content.
This may also be why some Italian brands have fallen out of favor in the specialty coffee world over recent years. Robusta beans can be harsh like burnt rubber and lack the clarity which is so sought after in the modern coffee world.
That said, Italian coffee exports have grown year by year and are projected to keep doing so. And of course, there are more than two types of coffee beans around.
Whole Bean Vs Pre-Ground
Ideally, whole beans are better for making coffees at home if you want to search for subtle and complex nuances.
But for many drinkers, the expectations with Italian coffees are different. Many people want an intense bold taste with Italian coffee, which can still be found with the right ground coffee. There are limitations to this, however. Don't expect the best tasting coffee you have ever tried. Ground coffee won't let you measure the multiple tasting ratios on a flavor chart.
What's The Best Brewing Method?
There are a number of different brewing methods that work well with Italian coffee. In fact, the most enjoyed coffees around the world today have their origins in Italy. Just look at espresso, macchiato, cappuccino, americano as examples.
Italian coffees work so well with milk because of their rich intensity. Italian espresso beans are ideal for milk and sugar as this richness cuts through the milk for a bold, chocolatey taste.
Sustainability And Ethics
Many Italian coffee companies have made strong advances towards a more sustainable and ethical supply chain. It benefits everyone, producers, companies, and consumers alike.
Many of the Italian coffee brand products sold will include "clean label" certificates on their packaging. These include Rainforest Alliance, USDA Organic, and Fair Trade certifications.
Coffee Processing Method
Most coffees from Italy will be washed to ensure that the clean notes are kept. Natural beans tend to have a fruitier taste due to the mucilage of the cherry being left on, which isn't often associated with Italian brands.
Natural: The fruit is left on the bean, which is dried and then stripped. It's the more traditional method and adds more fruit flavor but less clarity to the bean.
Washed: The fruit matter is stripped off of the bean. The beans are then washed before being dried, removing any sticky mucilage from the bean. There is more clarity with washed bean types as only the "bean" remains.
Honey: The fresh coffee cherries are de-pulped, but allowed to dry without washing. Some of the mucilage remains on the bean.
Italy Still Has A Lot To Offer
If you want that timeless, classic, vintage coffee taste, Italy still remains the way to go. They wrote the rules for the coffee industry and they still play by them fairly. Not only this, but they often come out on top, too.
However you like to drink your coffee, there is an Italian coffee brand out there for all coffee lovers.
From all the coffees we looked at, this Illy Classico seems to be the best at representing what Italian beans are all about. They are classic Italian but distinctive and unique.
If you want an Italian taste but not the intensity that comes with it, the Lavazza Super Crema is a smooth ride all the way down.
This Lavazza Crema e Gusto is also a great solution for those coffee lovers without a grinder at home.
Frequently Asked Questions
What Is Italy's most popular coffee brand?
It's a neck-and-neck split between Lavazza and Illy. Both are superb. Both offer different choices between them for coffee lovers. For 100% arabica, go with Illy. For strong arabica and robusta blends, Lavazza is the one.
Why Is Illy So Expensive?
Illy uses 100% arabica for its superior taste, but it also means it comes with a heftier price tag attached.
Is Coffee Grown In Italy?
No, Coffee isn't grown in Italy because the growing conditions aren't right for it. Italy imports all its coffee, almost always direct from the source for freshness.
What Is Italian Roast Coffee?
Italian roast coffee is characterized by its dark, rich, bold, and intense flavors. It is known for turning the whole world into coffee lovers. 
We are sorry that this post was not useful for you!
Let us improve this post!
Tell us how we can improve this post?