This is why the Cubans went so far as designing their own signature drinks, like the café con Leche and the Cortadito to complement these bold coffee beans.
We tried the best coffee brands that Cuba has to offer. We even made our own Cuban-style coffees at home using Cuba's famous sugary espumita espresso recipe.
We decided that Cafe Bustelo Supreme was the best, given its sheer versatility and that classic Cuban taste that isn't soon forgotten.
There is a real Cuban-style coffee out there for everyone, whether you want your coffee as rich and dark as you can get, or you want a more gentle introduction.
Below is a list of all the best Cuban coffee brands that we tried.
The 8 Best Cuban Coffee Brands And Beans We Recommend
Product
Features
Features
Price

Best Overall

Cafe Bustelo Supreme

Flavor Profile: Rich, dark, chocolate
Ideal Brewing Method: Any espresso brewing method
Roast Type: Dark

Check On Amazon

Most Versatile

Cafe Bustelo Cuban Brick

Flavor Profile: Chocolate, nutty
Ideal Brewing Method: Great with any
Roast Type: medium-dark

Check On Amazon

Best Pre-Ground

Cafe La Llave

Flavor Profile: Very rich, sweet, chocolate
Ideal Brewing Method: Any espresso brewing method
Roast Type: Dark

Check on Amazon

Best For Milk and Sugar

Pilon Cuban Coffee

Flavor Profile: Chocolate, cream
Ideal Brewing Method: Any espresso brewing method
Roast Type: Dark

Check on Amazon

Most Smooth

Mayorga Café Cubano

Flavor Profile: Vanilla, sweet, syrupy, smokey
Ideal Brewing Method: Great with any
Roast Type: Slow roasted, dark

Check On Amazon

Best Dark Roast

Naviera Cuban Style Coffee

Flavor Profile: Chocolate, chicory, vanilla
Ideal Brewing Method: Any espresso brewing method
Roast Type: Very dark

Check On Amazon

Best Value

Chock Full O'Nuts Cuban Roast

Flavor Profile: Rich, sweet
Ideal Brewing Method: Great with any
Roast Type: Dark

Check On Amazon

Best Medium Roast

Pilon Espresso 100% Arabica

Flavor Profile: Vanilla, smokey
Ideal Brewing Method: Any espresso brewing method
Roast Type: Medium

Check On Amazon
The 8 Best Cuban Coffee Brands And Beans Reviewed
Cuba is one of those places that has its own bold, distinctive, and vibrant culture. And this is also true with their unique take on coffee drinking.
Keep reading for our full reviews.
Cafe Bustelo Supreme is archetypical of what you expect from a Cuban coffee. It is bold, dark, and rich. This whole bean espresso coffee is great if you are the exacting connoisseur who wants to find the ideal grind to make your espresso.
The beans let you grind without clogging your machine. They are dark roasted to perfection and without the oily surface that other dark roasts often have.
If you are a newcomer to Cuban coffee and its characteristics, this coffee is well-rounded enough to greet your palate. It won't jar your senses with any perceived bitterness.
For the true Cuban coffee experience, this coffee also works well as a café con Leche or a café Cubano. It has the ideal strength to withstand any milk added to it. The renowned Cuban boldness is always present.
This coffee is ideal for all types of coffee drinkers, from newcomers to seasoned experts. Our overall favorite.
---
These are a lighter roast compared to other Cuban beans. The beans are also ground to accommodate those who like to use a variety of brewing methods. They are ground for espresso but are still coarse enough to enjoy as an Aeropress or a filter coffee.
Thanks to the unorthodox medium roast method, the all-around taste of Cuba shines through. It isn't overbearing when drinking black, like some other Cuban coffees can be. This roast method works harmoniously to give you a well-balanced cup every time.
This might not be the coffee for the aficionados who want complexity or subtlety, but it's a great drink to vary your brewing method in the morning.
---
This is for those who want their bold Cuban kick of espresso in the morning but without the hassle of grinding the beans yourself. Just the noise of the grinder going whirring in the morning can be stressful enough. And grinding your beans wrong and ending up with a sour shot of espresso before leaving the house is not a good way to start your day…
These coffee beans by La Llave offer the solution to drinking great, bold Cuban coffee without a fuss. These beans are ground to the perfect consistency for an espresso machine.
They allow you to make the best Cuban coffee you can at home without the lengthy preparation.
---
Cuban coffee works better with milk and sugar than most. And this Pilon Cuban Coffee does it very well. The darkness of the roast and the specific coffee beans selected create that unique bold Cuban flavor that permeates through milk and sugar. It harmonizes with milk instead of just being masked by it.
This bean has an oily surface with a slightly bitter aftertaste due to the roast type. So for those puritans who drink their coffee black, this isn't the one.
A rich Cuban tradition is to drink Cuban coffee with sugar and milk added to it for a café Cubano or café con Leche anyway!
---
Many Cuban coffees are too strong and too bold to be consumed without milk or sugar to offset it, however, things are different with this Mayorga café Cubano.
The beans are grown in the shade, which allows the coffee fruit to mature over time for a superior flavor. The beans are a dark roast, yes, but they are also slow-roasted, to ensure consistency throughout the beans and not burn them.
Slow and steady wins the race with this Cuban coffee.
This coffee is so smooth it can be brewed through a filter or even a French press. Sometimes using a French press can be too much with some strong, dark roast coffees. This Mayorga coffee allows you to brew it how you like to draw out its sweet vanilla properties.
---
Cuban coffee beans are defined by that bold, dark strength that accompanies them. This Naviera Coffee says: if you're going to go, why not go all the way? A Cuban-style coffee tends to be a dark roast in nature, and this is a very dark roast.
These beans are for those people who want their Cuban coffee as dark as they can get it. The distinctive notes of the beans are not roasted out with these beans, however. You can expect to find notes of chocolate of chicory and vanilla, a real treat for such a dark roast.
---
This Cuban roast by Chock Full O'Nuts is perfect if you need a reliably good coffee when you're short on time.
This convenient pre-ground coffee is a 100% blend of Arabica beans that are extremely flavorful. Cuban roasts are known for dark roasts and bold flavors that echo throughout all beans cultivated on the island.
These beans are conveniently kosher and gluten-free which is ideal if you have any dietary restrictions and requirements.
The all-purpose pre-ground beans mean you're not confined to a particular brewing method and you can play around with what works best for you.
If you're still uncertain, you'll be happy to know that Chock Full O'Nuts has been brewing coffee from New York city since 1932… which is a very long time, and they've managed to perfect their craft over the years.
---
Pilon have bucked the trend with this medium roast coffee. Most Cuban coffees are usually dark roasted to pull out as much of a bold flavor as possible. These Pilon Espresso 100% arabica beans are a medium roast with a lighter body, taste, and mouthfeel.
This is a great coffee for those who are new to drinking Cuban coffee and might not have the palate for its more powerful characteristics. It is also a good coffee for if you are entertaining guests who might not have the same constitution for bold, dark roasts that you have.
This one might seem a bit lackluster to those who want that strong kick of Cuban coffee. That said, the rich smokey taste is still intoxicating for any palate.
---
Cuban Coffee History
Arabica beans first arrived in Cuba in 1748. But mass coffee production in Cuba began when the Spanish Jose Antonio Gelabert fled from the Haitian Revolution. He was accompanied by French farmers seeking to start anew.
These French farmers introduced their expert growing and cultivation methods to the island. A distinctive coffee culture began to emerge on the streets of Havana. During the 19th and 20th Centuries, coffee production kept growing.
Cuban coffee production hit its peak in the 1950s with the export of over 20,000 tonnes of coffee beans a year.
When Castro took power, the rate of coffee production took a sharp nosedive. This was due to a lack of farming incentives and political trade embargos.
Coffee production was at its lowest point after the fall of the Soviet Union. Cuba's only superpower friend cased to exist. This became known as the "Great Recession" for Cuba.
Despite these hardships, the Cubans are resilient people, and their proud coffee industry lives on!
Cuban Coffee Culture
Cubans love their coffee. Many drink a shot of their rich, traditional, sugary beverage before they go about their day.
But their planned communist economy also means that their own native coffee is sometimes scarce and hard for the locals to get their hands on.
For some, including Cuban's themselves, Cuban coffee is too dark to be consumed on its own. Sugar is often mixed in with the espresso to create that famous Cuban liquid gold, known as cafecito.
Types Of Cuban Coffee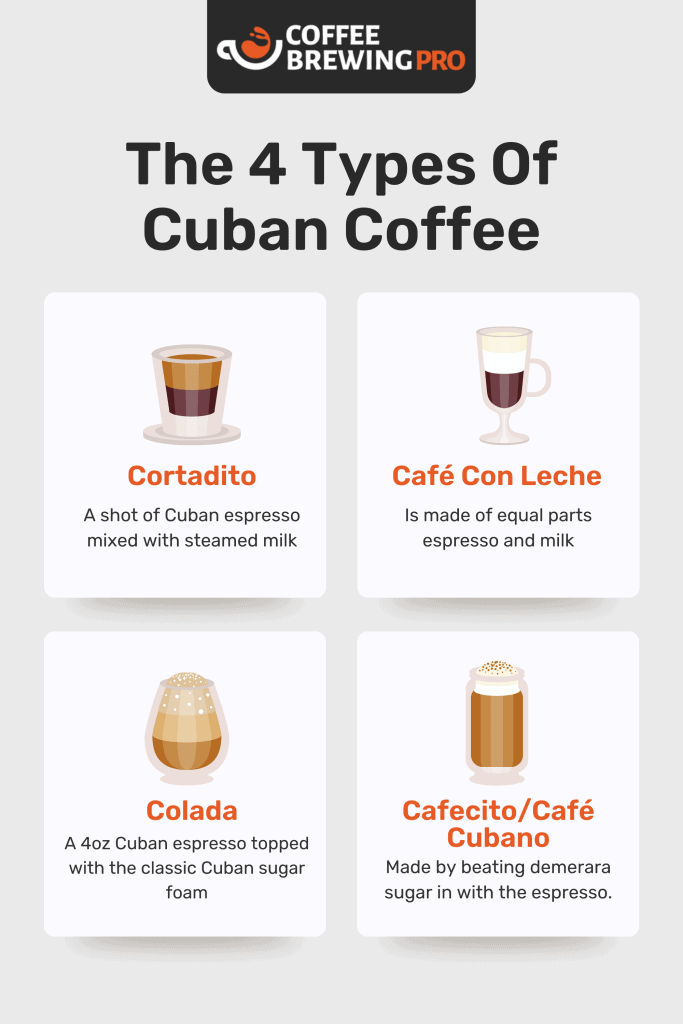 The main difference between Cuban coffee and other types is that Cuban coffee beans have a darker roast. A raw type of brown sugar called demerara sugar is also added to the espresso whilst it brews. The results are a slightly thicker and sweeter Cuban coffee drink.
Cortadito: a shot of Cuban espresso mixed with steamed milk. The distinctive light brown topping, called espumita, is made with whipped sugar and espresso.
Café Con Leche: is made of equal parts espresso and milk. The milk is added just before it hits boiling point, meaning it is scalded and not steamed. There isn't any microfoam either.
Colada: a 4oz Cuban espresso topped with the classic Cuban sugar foam, espumita.
Cafecito/café Cubano: a sugary concoction made from beating demerara sugar in with the espresso.
Buying Guide: How To Choose The Best Cuban Coffee
Cuba has a long and proud history. It has forged its national identity over the centuries and created a strong, distinctive identity for such a small island. And much of this identity can be found in Cuba's main exports of sugar, tobacco, and coffee.
Cuban coffee brands are still in production, despite numerous adversities over the years. And there are many of the best Cuban coffee brands still around.
Some Cuban coffee brands are actually based in the US, but with historical and traditional links to Cuba.
Cuban Coffee Origin
Many Cuban coffee brands import their coffee beans from various countries and made into a blend, but coffee is still grown in Cuba. The three main coffee-growing regions in Cuba are the Sierra Maestra mountains in the east, Pinar Del Rio in the west, and Escambray which is central.
The majority of coffee grown for export comes from Sierra Maestra. The coffee which is consumed on the island tends to come from the central Escambray mountains.
Cuban Coffee Flavor Profile
The most distinctive things about Cuban coffee are its dark roast and strong, robust flavors. If you drink a whole bean espresso coffee from Cuba or a café Cubano, you can expect a smokey, bold taste with hints of vanilla.
Cuban Roast Type
Cuban coffee is known for how dark its beans are roasted. It is so dark that a traditional café Cubano will have brown sugar beaten into it to sweeten the taste. Cuban coffee beans are almost never a light roast as it contradicts all expectations for a Cuban coffee brand.
For some, Cuban coffee has a bitter aftertaste, almost burnt. For others, it's a unique delight when mixed with sugar.
Arabica Vs Robusta
Today, most of the coffee beans produced in Cuba are arabica, due to arabica's far superior taste. Robusta beans are stronger and have higher caffeine content, but are known to have the undesired taste of burnt rubber.
A Cuban coffee brand may sometimes add robusta beans to help achieve the iconic bold Cuban coffee flavor. Robusta beans are also cheaper too.
Cuban Coffee Caffeine Content
Cuban coffee is roughly double the strength of regular American coffee. Because of this, it is often served in smaller coffee cups called tacitas.
Whole Bean Vs Pre-Ground Cuban Coffee
There is no doubt that a supreme whole bean espresso coffee is the best way to drink any coffee. You can adjust the grind size of your coffee beans to your preferred brewing method and cater it to your palate. The beans also stay fresher for longer.
It's a different story with Cuban coffee, however. Pre-ground beans work just fine if your aim is to brew up a rich cup of café con Leche or a Cortadito.
Cuban Coffee Brewing Method
This traditional way of making Cuban coffee is to sweeten the deal with added sugar to the espresso. Most Cuban coffee is finely ground to be brewed with an espresso machine or Moka pot. Demerara sugar is then beaten into the espresso for a rich, delicious drink and scalded milk is sometimes added.
Sustainability And Ethics
Sustainability and fair trade issues have long been a consideration in Cuba. Despite sustained abuses of human rights from the government in Cuba, the best coffee roasters uphold certain sustainable, organic, and fair trade certified standards. It benefits them too, not just the supply chain and environment.
Cuba has also taken on a massive initiative over the decades to reforest the country. And much of its farms are organic by default, as a result of the lack of imports after the fall of the Soviet Union.
Many coffee brands will state on their packing if they are organic, fair trade certified, or Rainforest Alliance certified.
Cuban Coffee Processing
Much of the Cuban processing techniques are laborious and inefficient. Most of it is handpicked by the farmers due to the lack of machinery available. The beans then undergo a washed or natural process.
The result of these traditional farming methods means a lot of close attention paid to the coffee, often at the expense of the farmer's labor.
The Verdict On Cuban Coffee: A Proud Nation's Favorite
Coffee from Cuba is bold and strong. Having looked at all of the products available, we decided this Cafe Bustelo Supreme was the best overall. The care given to these beans means they work well whether you like to drink your coffee black or with milk. The beans don't have the oil that often comes with a dark roast either, making them ideal for home grinding.
If you want to go all out and make a real Cuban coffee like a café con Leche, try these Pilon Cuban Coffee beans. The creamy and robust chocolate taste along with the dark roast means these beans aren't diminished by milk and sugar, and instead they work together to produce a rich, sweet coffee.
Frequently Asked Questions
What Brand Of Coffee Do Cuban's Drink?
Cafe Bustelo coffee is a popular favorite among Cuban communities. Viewed by some as the best Cuban coffee brand, it is a staple among Cuban locals and immigrants alike.
Which Cuban Coffee Is The Best?
Having sampled a whole host of Cuban brands, we decided this Cafe Bustelo Supreme Whole Bean was the best overall due to its iconic Cuban taste and versatility.
Can You Buy Cuban Coffee In The US?
Coffee from Cuba is widely available in the US since the lifting of the trade embargo by Barack Obama. Many Coffee companies regarded as Cuban also operate from the US.
Is Bustelo Coffee Cuban?
Bustelo Coffee is Cuban-style coffee, set up by the Spanish immigrant Gregorio Bustelo in Cuba. These days, however, Bustelo operates from within the US. 
How Do Cubans Drink Their Coffee?
Cuban's usually make their coffee using an espresso machine or a Moka pot.
They will often add milk and sugar to the espresso liquid to give it a rich, sweet taste.
We are sorry that this post was not useful for you!
Let us improve this post!
Tell us how we can improve this post?