Whether it's through a V60 pour-over, French press, or an Aeropress, black is my favorite way of drinking coffee. I get to experience the unique nuances of beans from different origins, roast types, and blends.
Whatever the method, black is the best way to distinguish your coffees and love what you drink.
We looked at a whole host of beans and decided that Lifeboost Coffee Embolden Dark Roast was the best black coffee overall.
Below is a guide to what's on offer for the best black coffees around so keep reading!
The 10 Best Black Coffees We Recommend
Product
Features
Features
Price

Best Overall

Lifeboost Embolden Dark Roast

Flavor Profile: Sweet, floral, fruity, creamy vanilla
Roast Type: Light-medium
Processing Method: Washed
Origin: Nicaragua

Check On LifeboostCheck On Amazon

Most Balanced

Volcanica Coffee Kenya AA

Flavor Profile: Citrus, raspberry, cranberry, fresh-cut redwood, floral
Roast Type: Light-to-medium
Processing Method: Washed
Origin: Kenya

Check On VolcanicaCheck On Amazon

Best Light Roast

Amora Coffee Delicata Blend

Flavor Profile: Sweet lemon, smooth milk chocolate finish
Roast Type: Light Roast
Processing Method: Unspecified blend
Origin: Blend of Central and South America

Check On Amora

Best Variety Pack

Spirit Animal Coffee - Mango, Peach & Sugarcane 3-Pack

Flavor Profile: Mango, peach, sugarcane, citrus, honey, sweet fruit, floral, caramel, guava
Roast Type: Light-to-medium roast
Processing method: Washed
Origin: Honduras

Check On Spirit AnimalCheck On Amazon

Best For Focus

Kimera Koffee Original Blend

Flavor Profile: Sweet, balanced, mild chocolate, faint apricot, walnut, a hint of faded lily, and subtle floral tones
Roast Type: Medium roast
Processing Method: Unspecified blend
Origin: Brazil

Check On Kimera KoffeeCheck On Amazon

Best Blend

Black Ink Coffee Maineiac Blend

Flavor Profile: Sweet, chocolatey, nutty
Roast Type: Medium roast
Processing Method: Unspecified
Origin: Colombia & Guatemala

Check On Black Ink

Most Convenient

STRONG BLACK Instant Coffee

Flavor Profile: Rich chocolate
Roast Type: Medium roast
Processing Method: Unspecified
Origin: Colombia

Check On STRONG

Best For Pour Over

Koffee Kult Colombian Huila

Flavor Profile: Chocolate, cinnamon, sugar
Roast Type: Medium roast
Processing Method: Washed
Origin: Colombia

Check On Amazon

Strongest Coffee

Death Wish World's Strongest Coffee

Flavor Profile: Cherry, chocolate
Roast Type: Dark roast coffee
Processing Method: Unspecified
Origin: Arabica and robusta from all over the world

Check On Amazon

Best Decaf

Kicking Horse Swiss Water Process Decaf

Flavor Profile: Dark chocolate, cacao nibs, brown sugar, roasted hazelnuts
Roast Type: Dark roast
Processing Method: Swiss water decaffeination
Origin: Central and South American Blend

Check On Amazon
The 10 Best Black Coffee Beans Reviewed
Below we have reviewed the 10 best black coffee beans on the market right now. Whether you're new to drinking coffee black and looking for something smooth and sweet, or if you want something deep and bitter we've got you covered!
Drinking black coffee is very much a personal experience and is down to your individual palate.
Let's dive into it.
A true black coffee but without the harshness on the body that you sometimes get with others. This is thanks to the purposely selected coffee beans. They're sun-dried and washed which means they have a more consistent and full-bodied flavor.
Lifeboost Coffee is known for being one of the top low-acid coffee brands. Lightly roasted coffee beans tend to have the highest acidity. However, this isn't the case with Lifeboost Embolden.
The low acid nature of this coffee is complemented by its creamy vanilla taste. Low acid coffee is much easier on the stomach and less detrimental to dental health. It's a perky cup for someone who likes coffee black but may be sensitive to its physical effects. It allows you to enjoy your coffee without some of the added complications.
---
These Volcanica Kenya AA are some of the finest coffee beans in the world. They are carefully chosen for their size, quality, and growing location.
Volcanica Kenya AA coffee beans are all inspected by the National Kenyan Coffee Board which authenticates all products and assures the consumer of their premium quality. A truly supreme taste for the drinker.
Volcanica Kenyan AA coffee makes for a delicate yet full-bodied coffee to drink black. It's a well-balanced brew for someone who wants to develop their palate and get a taste for more subtle, complex flavors.
Kenya AA is a smooth coffee so if you're a newcomer to black coffee and don't want to dive headfirst into a bitter coffee, you can't go wrong with these.
---
Another coffee bean for the newcomer to black coffee. The light roast coffee and harmonious blend of beans work together to create a soft and balanced coffee.
The crisp acidity, mellow body, and bright flavors offer up a great coffee to drink black. The flavors are subtle and delicate. You wouldn't want to add milk or sugar to this delicate flower of a brew anyway.
These beans are freshly roasted on-demand using Amora's 9-stage roasting process and shipped straight to your door. Having the beans freshly roasted like his maintains Amora's delicate flavor and doesn't compromise its subtleness.
It also means you don't need to worry about the freshness as they aren't sitting around in a warehouse.
---
There are a lot of complexities and characteristics with this coffee. It's for someone to appreciate and take their time with. The beans come from micro-plots in Honduras and only the top 1% are selected.
The flavors are rich and deep at the front with sweet and fruity flavor tones – with some unique variations between each of the 3 packs. It's a multidimensional drink for special occasions that is truly delicious.
It's not for someone who needs to rush out of the house and can't savor a cup of what could just be their favorite coffee experience, great for a lazy Saturday morning.
---
This coffee tastes great with many interesting, balanced flavors. Things get interesting with the added nootropics which improve mental performance.
This coffee is chock full of brain vitamins as Kimera Koffee has set out to tackle the problem of incorporating supplements and nutrition into your daily routine without the hassle.
Caffeine improves concentration and alertness but can leave you with jitters or big crashes if you're a big coffee drinker.
Kimera's Original Blend includes a researched mixture of:
L-Theanine – This offsets jitters whilst helping you to maintain calm and focus
Taurine – Increases your metabolism, reduces fatigue, and helps your brain function optimally
Alpha GPC – For increased brain health and healing
DMAE – For memory gains, elevated mood, and better athletic performance
Kimera's original blend is ideal if you want to push yourself at the gym or want to increase your concentration in a stressful workplace.
---
A blend that hits all the right notes. Blends are selected together to get a specific flavor profile. If you are after a nutty and chocolatey black coffee to enjoy on a daily basis, this is the one.
It is cheaper than many other coffee beans on the market which means it can be enjoyed throughout the week as a daily brew. It makes for a great, uncomplicated cup of Joe before you leave for work.
Its balanced, full-bodied, classic coffee taste makes it a reliable no-brainer. This is perfect if you're a big coffee drinker that wants a quality coffee for a great price.
---
Many in the world of specialty coffee turn their nose up at instant coffee. They are simply wrong for doing so. Most people are in too much of a hurry to concern themselves with the intricacies of coffee but still want to enjoy one.
Instant Coffee by Strong Coffee offers the solution and excels at it.
A medium roast with rich chocolate flavors throughout. It also features C8-C10, a supplement that improves brain health. It aids in neuron growth and repair, learning, mood, and wellbeing, as well as metabolic health. It also offers antibacterial properties.
It is possible to enjoy a meal from a street food truck and still enjoy a Michelin starred restaurant. They both offer different yet fantastic services. This instant coffee is perfect for those who are busy and don't have time to prepare a pour-over etc. but still want to drink a healthy, excellent coffee without the fuss.
---
This Colombia Huila by Koffee Kult is a small batch, handcrafted coffee. Much care and close attention has been given to the growing and making of it.
This is why we suggest giving it the same attention by using a pour-over when brewing it. It comes with a host of unique flavors and characteristics unlike any other from the Huila region.
Small batch allows a level of control that is unattainable with larger roasts. The washed process and medium roast really allow the unique regional qualities to come through. It's rich and full-bodied, yet balanced. It's truly one for the coffee lovers who love getting lost in the moment.
This coffee can be enjoyed on a daily basis. But we recommend this one for someone who wants to sit down and savor a pour-over coffee, to get to discover the region. It is for someone to appreciate what small-batch is all about and get to know its locale whilst they drink.
---
The accolade of being the "World's Strongest Coffee" is a coveted one in the world of coffee. An arms race has been raging for some time. Death Wish's World's Strongest Coffee is up there even if it isn't in the number one spot, despite what the name suggests.
A coffee for someone who needs a rude awakening in the morning. It is also an aid to focus the mind akin to having a bucket of cold water thrown at you whilst you sit in your office.
A bold, dark roast coffee. The beans have been chosen from around the world for their superior strength. A mix of arabica and robusta is used to heighten the caffeine whilst maintaining a good quality tasting coffee to drink black.
This coffee says "wake the hell up" to those who need to.
---
Decaffeinated coffee has come a long way over the years. Kicking Horse Decaf is the proof.
To get decaf black coffee back in the day was hard. Lots of unpleasant chemicals and additives were used to strip the coffee bean of its caffeine. It's a brave new world these days. Things have changed for the better.
Kicking Horse makes its decaf coffee beans using the Swiss water decaffeination process. It's a method that uses hot water to dissolve and remove the caffeine from the coffee beans but not the taste. Not a single unpleasant chemical insight. At last!
This black coffee maintains an array of delicious dark roast flavors like cacao, chocolate, and hazelnuts. It's ideal for the lover of coffee who is trying to quit caffeine or wants to cut down.
Enjoy this coffee any time of the day without fear of being up all night!
---
What Is Black Coffee?
Black coffee is a mixture of coffee grounds plus water. It's as simple as that.
But there are many ways to extract from the coffee beans using different methods for the best coffee to drink. There is pour-over coffee, French press coffee, filter, Aeropress. Even espresso and a stovetop coffee would be considered black coffee.
Each method comes with its own unique taste and benefits to make a cup of coffee to drink black.
What Are The Benefits Of Black Coffee?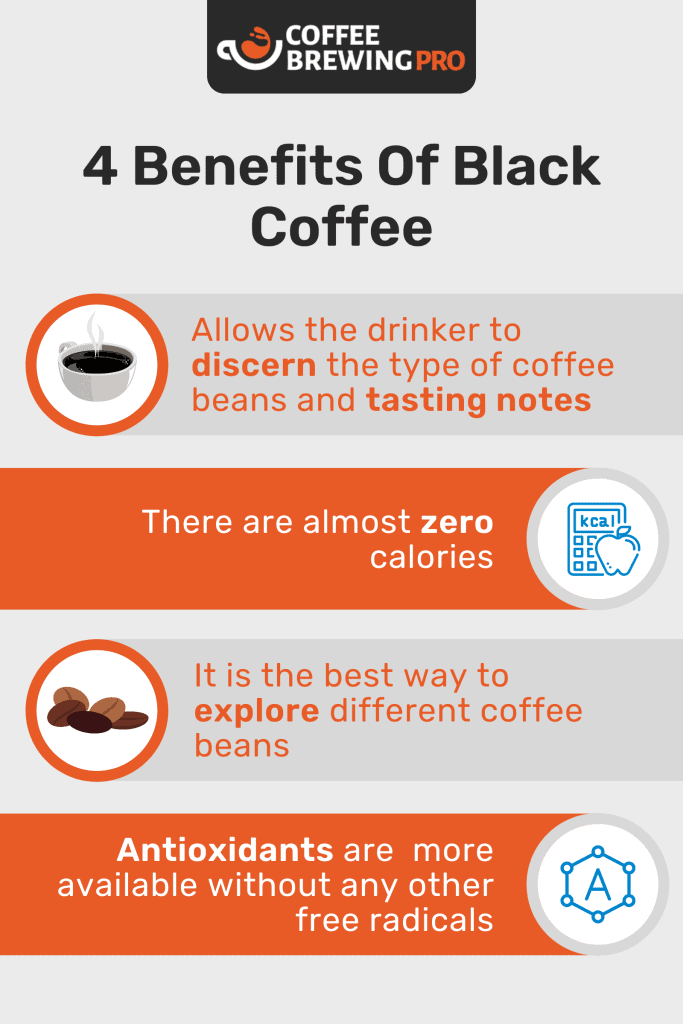 Drinking black coffee allows the drinker to discern the type of coffee beans they are drinking along with different tasting notes.
The variables involved with coffee are many and complex at an advanced level. It is very difficult, if not impossible, to ascertain what they are when milk and sugar are added.
Black coffee is the best coffee to drink for exploring good coffee beans.
The antioxidants in black coffee are also more available without any other free radicals. There are almost zero calories too.
How To Drink Black Coffee The Right Way
Pick Your Brewing Method
The way to discover the best black coffee is to experiment. There are a whole host of brewing methods out there for coffee to drink black.
I would recommend a pour-over coffee. It brings out the best of the beans and you can play around with it how you like. Some other great methods of drinking black coffee are:
French press: A traditional method. The coffee grounds steep instead of filtering through. The grounds are left in which creates a rich, dark flavor.
Espresso with water: It allows you to drink a big, rich cup of coffee.
Aeropress: A portable brewing process. You can make yourself an espresso-type drink or something more akin to a filter here. The black coffee is always delicious and clear
Filter: Hot water pours through the ground beans and creates a clean taste with less acid. It allows you to fully grasp the subtleties of black coffee.
You must keep your coffee maker clean to stop your brew from being corrupted. And obviously, milk, cream, and sugar are off the menu. That includes salt too.
Things To Consider When Choosing The Best Black Coffee For You
These are the factors you should consider before purchasing coffee beans you want to drink black. When diluting your coffee with milk and sugar the nuances are hidden so there are a number of variables that aren't as important.
Black coffee, on the other hand, allows you to taste the raw flavors of the beans so things like the origin and roast can make a huge difference to the overall flavor you experience.
Single Origin vs Blend
Once you start drinking black coffee you will notice the subtle differences of each bean. The best way to explore different tasting coffee is to experiment with different regions.
Soil type, climate, weather, farming method, and altitude, all add up to make each coffee special and distinctive.
To discover the special qualities of coffee beans from different regions is to drink a single-origin coffee. You will be able to tell exactly what it is you are drinking and the taste will be clearer. Any flavors or notes that you detect, you will know is from that one bean you are drinking
Blends are still tasty, they offer up a rich and special flavor profile, they are commonly used to create a highly caffeinated brew or a well-balanced cup.
Roast Type
The roast plays a key role in creating the flavor. It could be described as the most important single factor in allowing a coffee flavor to emerge. It will determine so much of the experience when drinking a cup of black coffee. The 3 main roast types are:
Dark roast: Draws out oil on the surface. The flavors from the coffee's origin are roasted out, replaced with a very bold, smoky, dark roast coffee taste.
Medium roast: Medium acidity and body. A rounded flavor profile. It preserves many of the unique flavors of the coffee's origin and bring out the caramel sweetness of a darker roast.
Light roast: Crisp acidity, mellow body, bright flavors. It preserves the unique characteristics of the bean.
A lighter roast allows the unique flavors of the best coffee beans to come through. It means you get a bright flavor and a crisp taste of black coffee.
It is ideal if you are new to drinking black coffee and want to develop your palate.
Arabica vs Robusta
Most coffee beans that you buy will be made from 100% arabica beans. The taste and crema are far superior to robusta if you want to drink a black cup of coffee.
Robusta beans on their own can taste like burnt rubber, which isn't pleasant without milk and sugar. They are used because the caffeine is twice that of an arabica bean.
A blend of arabica beans and robusta marries together good flavor profiles with caffeine strength.
Coffee Processing Methods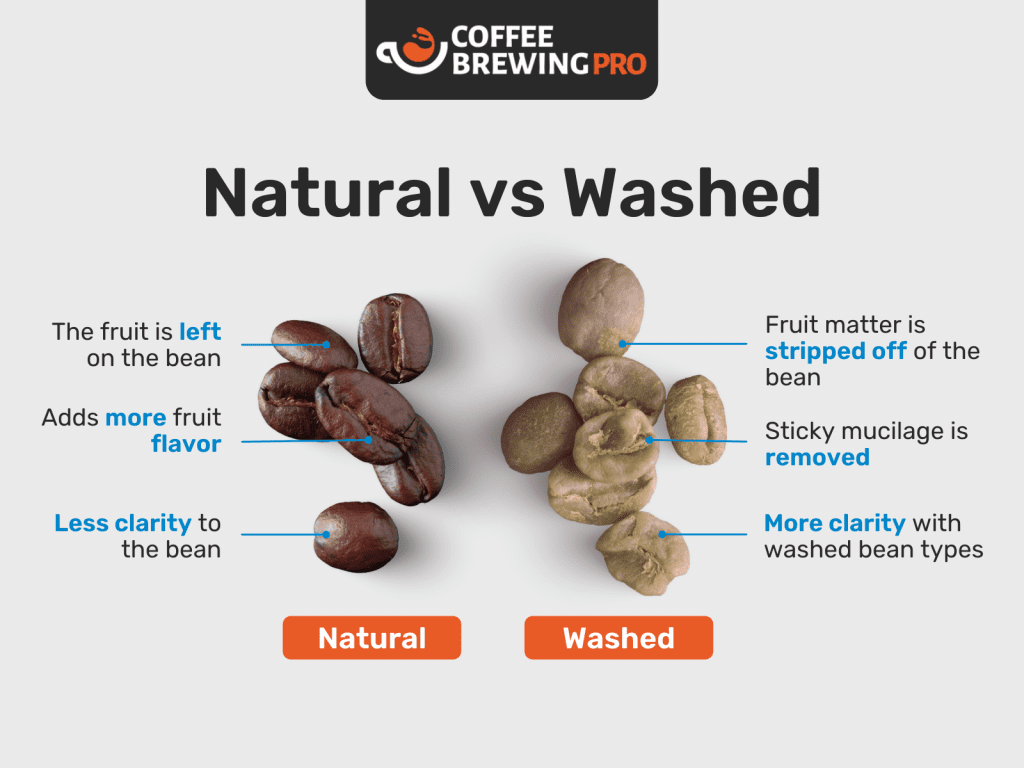 The processing method is key to discerning the taste of a cup of black coffee. The main processing types are:
Natural: The fruit is left on the bean, which is dried and then stripped. It's the more traditional method and adds more fruit flavor but less clarity to the bean.
Washed: The fruit matter is stripped off of the bean. The beans are then washed before being dried, removing any sticky mucilage from the bean. There is more clarity with washed bean types as only the "bean" remains.
Whole Bean Coffee vs Pre-Ground Coffee
It is recommended you buy whole bean coffee. This maintains the freshness of the beans for longer to give you the best cup of black coffee that preserves the beans' unique flavors.
The brewing method you choose will also require your beans to be ground up in different ways to release the full flavor, which isn't possible with pre-ground coffee. A French press will need very coarse ground coffee from the whole bean, whereas a stovetop will need to be very fine for example.
Sustainability And Ethics
The best roasters around uphold certain sustainability and organic standards as it benefits them too, not just the supply chain and environment.
Good specialty coffee brands know that the most sustainable farming methods are a win-win for everyone.
Any coffee brand which does adhere to these standards will have a USDA certified organic or a Fair Trade membership printed on their packaging. It will also be mentioned on their website.
The Verdict: So What Is The Best Coffee To Drink Black?
If you want to unlock a whole new world of coffee and taste the unique flavors from around the world is recommended to drink it black. It allows all the many features and dimensions to rise out of the coffee. Adding milk and sugar simply masks them.
We found that the Lifeboost Coffee Embolden Dark Roast was the best overall.
It is ideal for everyone, especially those who want to drink black coffee but might be sensitive to the physical effects due to its low acidity. However, this does not compromise its bold and complex flavor.
This is a great coffee to start with if you're new to drinking black coffee.
Frequently Asked Questions
Here we have answered some commonly asked questions about black coffee!
Which Black Coffee Is Best?
Lifeboost Embolden Dark Roast is our top pick, it's a light roast Nicaraguan coffee with sweet floral and fruity flavor tones. It is also a low-acid coffee, which makes it ideal for coffee drinkers who may also be sensitive to its effects.
What's The Healthiest Black Coffee?
Whilst all of these black coffees are healthy, Kimera Koffee's Original Blend comes out on top. It's a low-acid black coffee and contains an array of nootropics and brain vitamins that promote brain health, reduce caffeine jitters, crashes, and helps you to channel your calm.
Which Coffee Powder Is Best For Black Coffee?
STRONG Black Instant Coffee is a no-brainer. Instant coffee gets a bad rep from the coffee industry, but this premium instant coffee gives you a high-quality flavor without the time commitment. It's a medium roast coffee from Colombia with a chocolate flavor profile. It features supplements that promote brain health too!
Is Black Coffee Bitter?
If you're a newcomer to drinking coffee black the bitterness can be overwhelming at first depending on the beans you have picked.
A great way to ease yourself in is to pick lighter roasted coffee beans, that are smooth, and balanced. Lighter roasts are more fruity and floral and really allow you to taste the unique flavor tones of the bean.
You can expand your horizons once your palate is used to the nuances, there's no rush!
Does Black Coffee Taste Good?
Black coffee tastes amazing! It can take some time to get used to it if you usually add milk and sugar though. Black coffee allows you to experience different flavor tones from different origins and climates around the world.
There are endless possibilities and no two beans are the same.
How To Start Liking Black Coffee?
Buy lighter roasted coffee beans and make sure they're whole beans. Play around with the best coffee brands, regions, brewing methods, and roasts. The key to figuring out what you like is experimentation!
We are sorry that this post was not useful for you!
Let us improve this post!
Tell us how we can improve this post?