Coffee Brewing Pro was created by coffee lovers who were frustrated with other low-quality coffee brewing guides and information found online.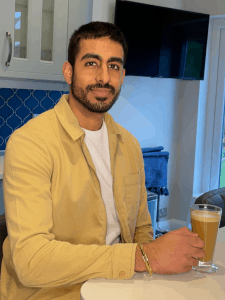 Welcome! My name is Arun Grewal and I created Coffee Brewing Pro because like the large majority, I have a love for coffee and home brewing. My journey started a while ago drinking coffee for the sole purpose of staying awake longer, as the years went on I found it becoming more of a necessity to my daily routine.
That's when I decided to start experimenting with different beans and machines to create a better experience for myself. I decided I deserve better than instant coffee and took the leap of faith!
Little did I know that there were so many different types of beans and contraptions out there. After testing them, my coffee game went from amateur to pro, and my passion for home brewing grew.
During my journey, I took part in many online discussions, I realized thousands of coffee home brewers and enthusiasts face all sorts of issues with finding objective, informational guides, that are up to date.
I don't qualify as a barista or any sort of coffee professional (I am more of a self-taught coffee prodigy ????). However, I am a publisher that is experienced in building editorial teams that are more qualified to give advice, and that is what I have done with Coffee Brewing Pro.
Our mission is to help you brew your coffee at home like a pro! The guides I have put together are the guides I wish I had earlier on in my journey and I hope they help you. Let the journey for your taste buds begin!
Arun Grewal
Founder of Coffee Brewing Pro
Our Team
Joseph Johnston
Joe can remember exactly where he was when he had his christening experiences with
specialty coffee. The first was a carafe of filter coffee from Bold Street Coffee in Liverpool. The second was a flat white, served up by a barista friend of his on a trip down to London. Since then, he has ventured ever further into the world of coffee. With each piece of information, he unearths about the humble bean and its technical processes, along with its place in culture, there is always more territory to explore, experience, and write about.
The personal engagement with writing has been a lifelong devotion of Joe's. He believes it is through words and the telling of stories that we as humans live our lives, find meaning, and move beyond ourselves.
Having written from time to time as a child, it was at the age of seventeen when he realized how transformative language is to the dailiness of life. He decided to study English with Creative Writing at university. He then went on to work for the London-based publishing house Open Pen as a magazine editor in a part-time role.
During this same period, he trained as a professional barista at numerous cafes and roasteries in London. It was at Four Boroughs in Crystal Palace where he settled to advance his knowledge and where he really honed his craft. He soon discovered that with every new skill or fact he learned about the cross-continental beverage, there were also many more questions to be asked.
Coffee is much like language to Joe: it is used daily by people, and yet many people are
unaware of what makes it so important, influential, or how they can get the most and very
best of out it. To be able to combine his love of coffee with his passion for writing is a special
joy for him.
Casey Roche
Casey believes that coffee is more than a drink to gulp down for some instant energy, but rather it is a moment to pause in a busy day, mindfully grind up the beans, and savor the variety of aromas from each new blend. It is also an adventure when exploring new coffee shops and neat cafes while sharing the flavors with friends and loved ones. And of course, taking home a new bag of beans at every stop.
Casey has spent hours researching all things coffee and has written multiple blog articles on the topic. Through this, she has discovered the nuances of coffee from the origins of the plant to how it is grown, as well as the different ways to craft a delicious brew.
As a newbie in the world of coffee, she soon learned that instant coffee was not the answer and immediately set out to explore the world of her favorite beverage. Now, her go-to method of brewing coffee is with a Moka pot after hand grinding some new beans, as she is set on trying as many different roasts and flavors as possible.
When there is not enough time to enjoy the process of brewing this way, she quickly makes a cappuccino with her fully automatic coffee machine.
As a fairly new homebrewer, she is well-positioned to teach you about the world of coffee with an emphasis on how to avoid beginner errors, as she has made a few of them along the way.
Casey believes that the best part of writing for coffee blogs is to learn how expansive the world of coffee is and the many ways to improve her tasty brew. Then of course to be able to try them out at home while never looking back to bland instant coffee.
What To Do Now?
If you are here it means you too are looking to learn more about coffee home brewing, the origins of coffee, recipes, and much more.
The good news is, we have prepared everything to help you achieve that so from here you can either:
I hope you enjoy the content I've worked so hard to put together, and if you have any suggestions to make this site better, we'd love to hear them!
Arun Grewal
The Coffee Brewing Pro Team